We are proud to be the largest U.S. employment directory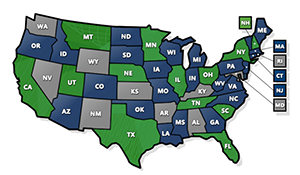 For job seekers
Worklooker's mission is to provide job seekers with easy to navigate regional directories of top employers. An emphasis is placed on careers in local municipal government, healthcare, public schools, higher education, and public safety. New directories provide a selection of private sector employers as well. All listings are carefully reviewed for their potential value to job seekers based on the volume and variety of positions being offered.
For employers
Worklooker's rich content platform attracts qualified applicants. Employers can easily submit job ads that provide high visibility in multiple county and regional directories.
Contact us
Worklooker is a veteran-owned employment guide that operates in Rockledge, Florida. You can always contact us via info@worklooker.com.